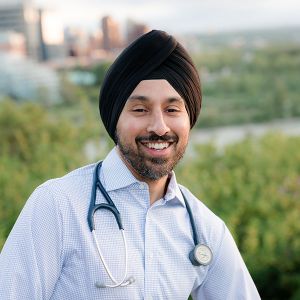 Dr Avneet Brar attended the University of Alberta for medical school and graduated in 2008. He then completed his residency training in Alberta in 2010.
After completing his residency Dr Brar has worked in a variety of settings. This has included working as a hospitalist, urgent care, family practice, palliative care in a hospice and a rehabilitation centre.
Dr Brar developed a strong interest in occupational medicine as well as musculoskeletal injuries.  His variety of experience has given him the insight, skills and knowledge to help injured workers achieve a successful and sustainable return to work after an injury or illness whether it is work related or not. He helped found the first Occupational Injury Services clinic in Alberta and served as its first medical director.
Dr. Brar has continued to build on his professional competencies within occupational medicine over the past number of years.  In April of 2017, he will complete his two year course in the Foundations in Occupational Medicine course through the University of Alberta. He has completed his training to do back and shoulder exams with WCB Alberta and is designated as a Professional Supervisor of the Audiometric Monitoring Program.  He has attended numerous conferences and workshops across North America with the focus on workplace injuries, disability management, and recognition of limitations in safety sensitive positions.  He firmly believes that work is an essential component of a person's well being.
In his spare time Dr Brar enjoys spending time with his family and friends. He enjoys running and playing hockey to stay as active as possible.
Dr. Avneet Brar – Qualifications
University of Alberta Medical School – 2008
University of Calgary Residency – 2010
Associate Clinical Professor, Department of Family Medicine, Cumming School Of Medicine, University of Calgary
Occupational Medicine Fellowship – University of Alberta
Associate of Canadian Board of Occupational Medicine
Professional Supervisor of Audiometric Monitoring Program
Firefighter Wellness Examiner
Locum Calgary Fire Department Wellness Clinic – 2010-2013
Medical Status / Back and Shoulder Examiner WCB Alberta
Hospitalist – 2010-2013
Urgent Care